Further down the page, you'll find some explanations regarding the key similarities and differences between the Sole F63 and the Nordictrack T 6.5S.
But before checking out explanations regarding their specs, features, and warranty, here's a table that summarizes the main technical summary sheet for these 2 treadmills:
Image
The Winner (#1)
The Winner (#1)
Image
Specs Comparison
Price is one of the top priorities when making a purchasing decision. To attract customers, good product quality and affordable price must always go side by side. In this respect, the Sole F63 belongs to the more advanced segment, with a much higher price than the Nordictrack T 6.5 S.
At such a higher price, the Sole F63 possesses a 75 x 33 x 58 inches design. It is, therefore, larger than the Nordictrack that measures T 6.5 S 73 x 35.8 x 67.5 inches. Larger means more resistance, the Sole F63's allowable weight of 325 pounds is considerably greater than that of the Nordictrack T 6.5 S, which can only withstand 300 pounds.
Not only has a bigger body, but the Sole F63 also comes with a more powerful engine of up to 3.0 HP. On the other hand, the Nordictrack T 6.5 S only has an engine of 2.6 HP. Quite understandable for its small parameters.
However, the Nordictrack T 6.5 S turns the table by having 20 training programs, more than twice the number of training programs on the Sole F63.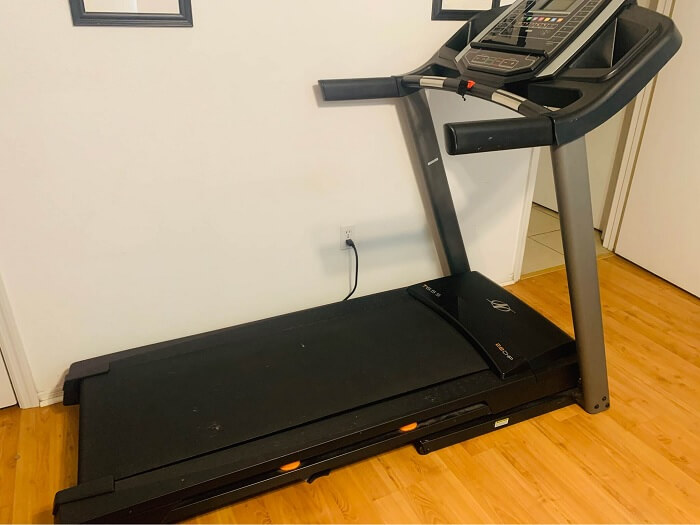 The Sole F63 delivers an incline from 0 – 15% in terms of inclination, whereas the Nordictrack T 6.5 S delivers from 0 – 12%. This gap might not be a huge disadvantage since not many users use up to 15% that frequently.
Also, many experts appreciate the comfortable folding of both the Sole F63 and the Nordictrack T 6.5 S. Sole's product has a running surface of 20 x 60 inches that produces a relatively stable experience. Meanwhile, Nordictrack's version is 20 x 55 inches, which is just enough for you to practice comfortably every day.
During operation, the engine will heat up, so it is necessary to have a cooling fan system. Unlike the Sole F63, the Nordictrack T 6.5 does not have any cooling fans.
The similarity between these two product lines is the heart rate monitoring feature. Except for the heart rate contact sensor, the Nordictrack T 6.5 does not have any wireless pulse.
Features Comparison
The Sole F63 has many more features than the Nordictrack T 6.5 S. Specifically, it has a 6.5 inches built-in LCD screen compared to the 5 inches one in the Nordictrack T 6.5 S. This difference is great enough to conclude that the F63 edition brings about a more comfortable experience.
Although there is no Ifit, there are still up to 20 exercise programs available, making the Nordictrack T 6.5 S stand out from the competition.
During exercise, water supply is very crucial for users. Aware of that, manufacturers have integrated a small storage water area for both models. Yet, the Sole F63's is more advanced with an additional device holder.
As mentioned above, Sole F63 owns a superior engine with 3.0 HP that makes the running distance of this product line relatively long for about 12 mph. Combined with the feature of rotating the armrest at will, Sole F63 easily attracts users more than T 6.5 S.
Both provide users with other convenient features such as widescreen and amplifier speakers for the best exercising experience.
Regarding the mode displayed on the screen, perhaps the T6.5 S, with its 5-inch backlit iFit screen, will prevail over the Sole F63's simple LCD.
The biggest strength of Sole F63 compared to its friend – T 6.5 S is the use of a modern fan and control system. Hence, you can enjoy your workout without worrying about your breathing.
The last advantage of both products is the capacity to quickly connect Bluetooth with external applications to help you relax with music and radio.
Warranty
Nordictrack T 6.5 S comes with a relatively good warranty, including up to a 10-year frame warranty, 2-year parts warranty, and 1-year labor warranty. Meanwhile, the Sole F63 owns a superb warranty: a 20-year engine warranty, 3-year parts warranty, and 1-year labor warranty.
Quick Rundown Of Sole F63
No products found.
---
Quick Rundown Of Nordictrack T 6.5S
Nordictrack T 6.5S Treadmill
30-Day Ifit Membership Included; Stream Live & On-Demand Workouts On Your Equipment With Global Workouts & Studio Classes; Elite Trainers Adjust Your Equipment (15 Dollar Value)
10% Onetouch Incline Control; 10 Mph Smart Onetouch Speed Control; With Ifit, Your Trainer Auto-Adjusts Your Speed And Incline Through A Smart Bluetooth Connection
Smart-Response Motor For Effective Speed, Interval, And Endurance Training; 20" X 55" Tread Belt Offers Plenty Of Leg And Elbow Space As You Run; Flexselect Deck Cushioning Protects Your Joints
Innovative Spacesaver Design With Easylift Assist Means Your Treadmill Can Fold Up After Your Run For Compact, Simple Storage; Auxiliary Music Port And Dual 2-Inch Speakers Provide Entertainment
300-Pound User Capacity; Protected With A 10-Year Frame Assurance, 2-Year Parts Assurance, And 1-Year Labor Assurance; 54" H X 36" W X 73.5" L
---
Product Videos
---
Conclusion
The above article is some comparison between Sole F63 vs Nordictrack T 6.5 S that you should consider. We would recommend the Sole F63 for its advantages in size, features, engine, and payload. It's suitable for anyone who requires a fully-equipped treadmill with multiple features. Nevertheless, if you need no more than a normal treadmill with the standard feature, the Nordictrack T 6.5 S with a cheaper price might be a wise option.
---
---