Further down the page, you'll find some explanations regarding the key similarities and differences between the Nordictrack T 6.5 S and the Horizon Fitness T202.
But before checking out explanations regarding their specs and features here's a table that summarizes the main technical summary sheet for these 2 treadmills:
Image
The Winner (#1)
The Runner-up (#2)
Display
3" LED, backlit LCD screen
The Winner (#1)
Image
The Runner-up (#2)
Image
Display
3" LED, backlit LCD screen
Specs Comparison
When it comes to purchasing fitness equipment, price plays an important role. Horizon T202 belongs to a higher price range, above $1000, while the Nordictrack T 6.5 S is under $1000.
Of course, you want to invest in a treadmill that is affordable yet sturdy. The Nordictrack 6.5 S can withhold 300 pounds, while its counterpart can carry slightly more weight, 325 pounds.
The Nordictrack includes 20 preset workout sessions, while the Horizon only has 5 built-in programs. However, the Horizon lets you track your progress for up to 31 days and focus on long-term goals.
Thicker belts boost the durability of treadmills; however, both trainers only have a one-ply tread belt. It is reasonable in an economical running machine like Nordictrack. However, you might expect more from an expensive treadmill like the Horizon.
The Horizon T202 satisfies runners by providing a 2.75 CHP motor, while the motor of Nordictrack is only 2.6 CHP. When in operation, these treadmills produce minor noise thanks to the robust motor.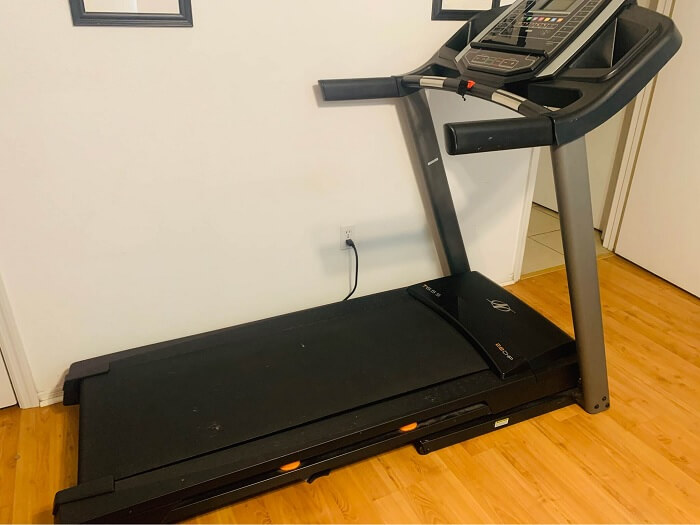 The treadmill incline is also an important factor in accelerating fitness results. The Nordictrack can be inclined up to 10% when the maximum inclination of the Horizon is slightly higher, at 12%.
The Nordictrack allows up to 10 MPH, while Horizon users can reach a slightly higher speed, 12 MPH.
When the treadmills operate at full speed, they can heat up significantly. Fortunately, the built-in cooling fan of Horizon will help cool the engine, a feature not found in the Nordictrack.
The heart rate tracker is quite similar for both trainers. The sensor is integrated into the handlebars, and data will be transmitted to the monitor.
How about the weights? Nordictrack weighs 203 pounds while Horizon weighs 172 pounds.
On mobility, both treadmills are equipped with wheels for transportations.
The size of the treadmills is another vital factor. The Horizon is 76" long x 32" wide x 58" high, and the Nordictrack's dimensions are pretty similar, at 75" long x 34" wide x 58" high.
The difference lies in the size of the track size. The Nordictrack has a 20" wide x 55" long track, suitable for everyone. However, runners or long-stride walkers may want to consider a longer track, such as the one on the Horizon, which is a 20" x 60" track.
In addition, both machines have technology that allows easy folding.
What about cushions under tread belts to reduce pressure on joints? Both trainers possess cushions that minimize the risk of injury. Moreover, the Horizon has 3-zone cushions that self-adjust to the workout to protect its users.
Features Comparison
Users can control the speed and incline through buttons on the console. Both Nordictrack and Horizon have large, bright buttons with numbers that can be controlled with one touch.
Similarly, both machines have preset workout programs where users can select workouts through the console.
Screens on both machines are LCD, black-and-white screens. Nordictrack has a 5" screen, bigger than Horizon's 3" screen.
Like other Nordictrack trainers, the T 6.5Si and T 8.5s are both equipped with dual amplified speakers, providing plenty of volumes.
When connectivity to other devices is required, the Horizon outplays its rival. The Nordictrack does not provide a USB port. And the built-in Bluetooth on the Nordictrack only allows the heart rate monitoring app and iFit. However, you can find a USB port and Bluetooth sync to any device of your choice on the Horizon.
If you are wondering which figures are shown on the screen, here is the answer: both screens indicate duration, distance, calories burnt, incline, and speed. The Horizon also shows heart rate on the screen.
Fortunately, you can connect both treadmills to their corresponding manufacturers' phone applications to keep track of your progress. Moreover, purchasing the Nordictrack includes a premium membership of iFit, which elevates your training by having virtual experts.
Both trainers are compatible with Android and iOS phones. However, you will need a separate AUX cable to connect your phone with the Nordictrack, while the Horizon even provides you with a rapid charge USB port.
Both treadmills have a small side pocket for storage. However, if you want to use your phone while working out, the Horizon is the ultimate choice. The phone holder does not cover up part of the screen like the Nordictrack's holder does.
Purchasing a Nordictrack T 6.5 S trainer guarantees you a 10-year frame, 2-year parts, and a 1-year labor warranty.
Meanwhile, the Horizon offers a lifetime motor and frame, one year on parts, cushioning, and labor warranty.
Quick Rundown Of Nordictrack T 6.5 S
Nordictrack T 6.5 S Treadmill
30-Day Ifit Membership Included; Stream Live & On-Demand Workouts On Your Equipment With Global Workouts & Studio Classes; Elite Trainers Adjust Your Equipment (15 Dollar Value)
10% Onetouch Incline Control; 10 Mph Smart Onetouch Speed Control; With Ifit, Your Trainer Auto-Adjusts Your Speed And Incline Through A Smart Bluetooth Connection
Smart-Response Motor For Effective Speed, Interval, And Endurance Training; 20" X 55" Tread Belt Offers Plenty Of Leg And Elbow Space As You Run; Flexselect Deck Cushioning Protects Your Joints
Innovative Spacesaver Design With Easylift Assist Means Your Treadmill Can Fold Up After Your Run For Compact, Simple Storage; Auxiliary Music Port And Dual 2-Inch Speakers Provide Entertainment
300-Pound User Capacity; Protected With A 10-Year Frame Assurance, 2-Year Parts Assurance, And 1-Year Labor Assurance; 54" H X 36" W X 73.5" L

---
Quick Rundown Of Horizon Fitness T202
Horizon Fitness T202 Treadmill
Includes free app to control your workout and push data to favorite fitness Apps, plus device holder and rapid-charge USB port
Assembled Dimensions: 75" L x 34" W x 58" H | Folded Dimensions: 47" L x 34" W x 65" H | Running Area: 20" x 60" | Weight: 187 lbs
Max User Weight: 325 lbs
Quickly shift speed and incline with one-touch keys, quick-rotating Dial and handle bar controls
Powerful, 2. 75 chap motor

---
Product Videos
---
Conclusion
We have discussed Nordictrack T 6.5 S Vs. Horizon T202 through this post. In the end, the Horizon T202 is the superior choice. The price difference justifies the premium in power, size, features over its rival – the Nordictrack T 6.5 S.
---