We are comparing Makita KP0800 vs KP0810, both are known as powerful tools for wood planing. Their strong delivery power, cutting capacity, and ease of use can help you to shape and design wood pieces effectively.
But what are their differences and which one deserves to be the best? Comparing their price, maintenance requirements, as well as utilities needed for those two products to work smoothly, we will be able to figure out which one is the better purchase!
Let's break things down, shall we?
Differences between Makita KP0800K and KP0810
There is no doubt that the Makita KP0800 and KP0810 planers are amazing woodworking tools. Despite the fact that the two products basically look the same, they still have significant differences in features and performance.
Image
The Winner (#1)
The Runner-up (#2)
The Winner (#1)
Image
The Runner-up (#2)
Image
The power supply is corded for both models. While their planing width of 3-1/4" is also equal, planing depth differs among other features.
The Makita KP0800 is delivered with 6.5 AMP motor and features a two-blade cutter that allows planing up to a depth of 3/32".
With a load speed of 17,000RPM, it ensures a solid stock removal and enables a superior wood finish.
Weighing only 5.7 lbs, it is a rather lightweight planer, and it is very comfortable in the hands due to the rubberized front and rear handles.
Similar to the KP0800, the Makita KP0810 planer also features a cutter head with two blades but can plan up to a 5/32" depth with a speed of 16,000 RPM, thanks to a 7.5 AMP engine. It is a little heavier, bringing 7.3 lbs to the scale.
Its elevated base protects not only the wood you are working on but also the place from unnecessary damage and paired with its aluminum housing make it a very durable planer.
Quick Rundown of Makita KP0800K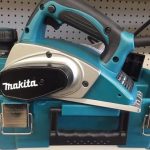 Makita KP0800K 3-1/4"...
6.5 AMP motor delivers more output power for increased stock removal and superior finishes
Planes up to 3-1/4" wide and 3/32" deep in a single pass
Two-blade cutter head with 17,000 RPM delivers smooth finish and fast stock removal
Spring-loaded stand elevates the base to protect the blades and workpiece
Easy blade setting system for fast blade installation
Pros:
Solid and durable construction design
Easy operation
Blades can be removed quickly
Practical tool case included
Cons
Chips and shavings coming from the planer's right side

Quick Rundown of Makita KP0810
Makita KP0810 3-1/4"...
Planes up to 3-1/4" Wide and 5/32" Deep in a single pass
Two-blade cutter head with 16, 000 RPM delivers smooth finish and fast stock removal
Chip ejection can be directed to either side of the tool for convenience
Depth adjust knob features an easy-to-read scale with click stops in 0.1mm increments for precise depth adjustment
Conveniently located lock-on/off button can be operated from either side of handle
Pros:
Powerful engine
Comfortable to work with
Easy to replace blades
Flexible configuration
Cons:
Relatively thin carbide blade
No tool case included

Conclusion
Both planers – Makita KP0800 vs KP0810 – have their own advantages and disadvantages, so you should go for the one that satisfies your needs and requirements.
In my opinion, I'll put trust in the Makita KP0800 due to the fact that it is a more affordable planer with lightweight which makes it the best option for occasional usage.
For a heavy user, I recommend the Makita KP810 as it is a strong device that copes with nearly all types of planning tasks.