Further down the page, you'll find some explanations regarding the key similarities and differences between the Horizon 7.8 AT and the NordicTrack Commercial 2450.
But before checking out explanations regarding their specs and features here's a table that summarizes the main technical summary sheet for these 2 treadmills:
Image
The Winner (#1)
The Runner-up (#2)
Model
NordicTrack Commercial 2450
Heart Rate Monitor
includes a Bluetooth wireless chest strap
Display
14″ Web-Enabled HD Touch Screen
The Winner (#1)
Image
Model
NordicTrack Commercial 2450
Display
14″ Web-Enabled HD Touch Screen
The Runner-up (#2)
Image
Heart Rate Monitor
includes a Bluetooth wireless chest strap
Specs Comparison
Firstly, let's find out the difference between the two treadmills regarding the dimensions and heaviness. Overall, the dimensions of Nordictrack 2450 is bigger than that of Horizon 7.8.
In detail, NordicTrack 2450 measures 80 inches long, 39 inches wide, 70 inches high, while Horizon 7.8 is 76 inches long, 37 inches wide, and 64 inches high. As you can see, Horizon 7.8 is a smaller treadmill, making it highly suitable for small areas. You can use this criterion to rate the treadmills.
Besides, the difference in the heaviness of the two treadmills is noticeable. Speaking of Horizon 7.8, it is a bit lighter than its counterpart.
The distinction of their selling prices is another factor to consider for a suitable treadmill. Overall, the price difference is not big. Horizon introduces the model 7.8 at under 2000 dollars. However, the Nordictrack brand sells the model 2450 at a slightly higher rate- approximately 2500 dollars. Therefore, you may go for the Horizon model in case you are on a budget.
Between Horizon 7.8 and NordicTrack 2450, the maximum carrying weight is different. The 7.8 AT has strong builds carrying up to 350 lbs while the Horizon model overtakes the 2450 model in a more weight capacity level- 300 lbs.
As a result, Horizon 7.8 fits weighty customer segments.
Regarding the treadmill's incline range, generally, you can change the incline range between 0% and 15% in the Horizon model and Nordictrack model. However, there is a slight difference in that Nordictrack can incline from -3% to 15%. Hence, we recommend Nordictrack if you want to add more challenges to your training session.
Coming to the pre-installed workouts, users can enjoy a wide variety of workout programs on both machines even though the two treadmills go with a different quantity of workout programs 40 pre-installed workouts on NordicTrack 2450 and only ten programs on Horizon 7.8 AT. So, you know which treadmill you should go for when it comes to built-in training programs.
Speaking of power, there is not much discrepancy between the two machines. Regarding Horizon 7.8 and Nordictrack 2450, having a 4.0 HP motor makes them powerful enough to reach 12 MPH. Therefore, the two machines are best for casual home users and professional users.
Finally, both Horizon 7.8 vs Nordictrack 2450 assemble with a pretty large 22-by-60 inch commercial running area. With this size, both treadmills provide runners with complete comfort while training.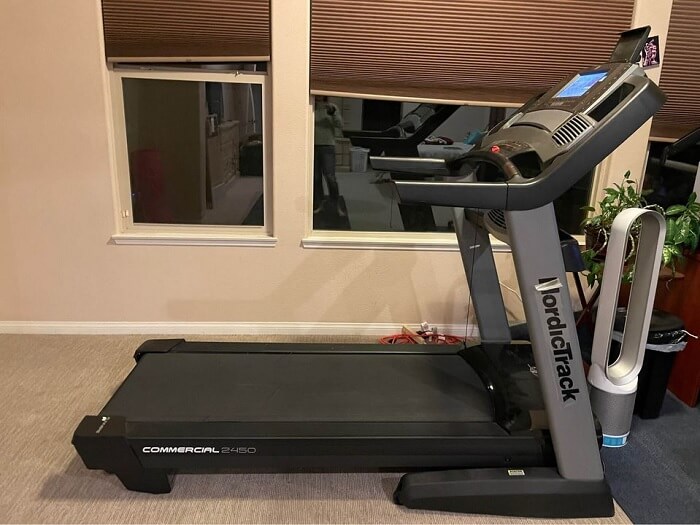 Features Comparison
To start, the fact that many treadmills nowadays go with the BlueTooth tech is inevitable. That is why brands like Horizon and Nordictrack always adapt Bluetooth to their treadmills. Both Horizon 7.8 and NordicTrack 2450 come with Bluetooth connections, making it easier for users to link mobile devices, headphones, and speakers to the treadmill.
Besides, two running machines also have big screens to display training info. Yet, NordicTrack 2450 comes with a massive 14-inch HD touchscreen, while Horizon 7.8 has a 9.3 inch LED screen. Therefore, NordicTrack 2450 is the better option if you want to have a big touchscreen.
In terms of app-enabled features, when customers purchase the Nordictrack model, the package already includes 1- year iFit Coach Membership, while the iFit app is not available for Horizon 7.8. Yet, other apps, such as Studio App, Peloton App,…
There is also a workout fan attached to the console of the two models to cool users down while training.
Lastly, the two treadmills support Heart Rate Monitoring technology to assist runners in examining their heart rate by the handlebar grips or wireless chest straps. However, users can track their heart rate by both chest straps or handlebar grips in Nordictrack 2450.
Quick Rundown Of Horizon 7.8 AT
Horizon 7.8 AT Treadmill
CONNECT: Quick and easy app connectivity. Stream fitness classes, movies, and music via Bluetooth connection. Integrated device rest securely holds your phone or tablet. A rapid-charge USB port keeps your device powered. No subscription required!
BUILT FOR HOME WORKOUT PERFORMANCE: 22 x 60-inch XL belt deck with 3-zone cushioning offers variable response for flex and support in all cardio and stride types. Max user weight is 375 pounds, with assembled dimensions of 76" x 37" x 64".
PRECISION CONTROL: Experience fast, smooth transitions between intervals using QuickDial controls to simplify adjustments without breaking your stride. Speed range from 0.5 – 12 mph and an incline range from 0 – 15% so you can walk, jog, or run.
PROGRAM CHOICES: Custom Interval Keys, One-Touch Speed & Incline Quick Keys allow you to switch between programs, such as Sprint 8 HIIT, 5K, Calorie, Distance, Fat Burn, Hill Climb, Manual, and Max Heart Rate. Monitor it all with contact hand grips.
RESPONSIVE DRIVE SYSTEM: Highly responsive Rapid Sync performance drive system delivers faster speed and incline changes, perfect for interval training. Enjoy a smooth, efficient workout.

---
Quick Rundown Of NordicTrack Commercial 2450
NordicTrack Commercial 2450 Treadmill
30-Day iFIT Family Membership Included; Stream live & on-demand workouts on your equipment with Global Workouts & Studio Classes; Add up to 5 users; Elite trainers adjust your equipment ($39 value)
Immersive 14-inch interactive HD touchscreen streams on-demand iFIT workouts directly to your equipment and provides easy stats tracking; SMART-Response motor for effective running and cardio training
-3 to 15 % OneTouch incline control; 12 MPH SMART OneTouch speed control; Your iFIT trainer auto-adjusts your speed and incline to meet trainer requirements and match real-world terrain
Innovative SpaceSaver design with EasyLift Assist means your treadmill can fold up after your run for compact, simple storage; 22" x 60" tread belt for leg and elbow space; Runners Flex cushioning
300-pound user capacity; Protected with a 10-year frame warranty, 2-year parts warranty, and 1-year labor warranty; 59.25" H x 39.25" W x 81.25" L. FASTER Dual 2.4 GHz and 5 GHz Wi-Fi Connectivity

---
Product Videos
---
Conclusion
Hopefully, the distinctions between Horizon 7.8 vs Nordictrack 2450 are clear enough to assist you with your buying decision. Based on the great benefits, NordicTrack 2450 proves itself a more worthy treadmill than Horizon 7.8 AT
---