Honda has long been a famous name in the manufacturing industry of generators. Typically, when it comes to some best sellers of this brand, Honda EU2000I vs eu2200i are always named. For this reason, the battle of Honda EU2000I and Honda eu2200i becomes a hot topic for every user.
Who wins? Who loses? If you cannot identify the winner, let our article be your reference! Scroll down to find out more.
Image
The Winner (#1)
The Winner (#1)
Image
Differences Between Honda EU2000I and EU2200I
It must be mentioned that there are some actual distinctions between Honda EU2000I vs eu2200i despite its same manufacturer and using purposes. In this article, we will compare them in terms of technical specifications, power, and utility.
Power Comparison
First, we would like to put an emphasis on technical specifications.
Equipped with the new 121cc GXR120 engine, Honda eu2200i offers more power than the eu2000i one. In addition, Honda eu2200i can work well in saving fuel thanks to the addition of a fuel shut off valve.
In terms of weight, the eu2200i generator is quite heavier than the older one. But it doesn't really matter as you still carry it easily without breaking a sweat.
There is a slight difference between these items. To be more specific, Honda eu2200i is much more powerful than the eu2000i one.
Its name has told it all. Honda eu2200i increases 200 watts compared to the other product. Although you may think 200 watts don't really make sense, you can get wrong as it decides on whether you can run some heavy-duty devices or not.
Utility
When it comes to utilities, Honda EU2000I vs eu2200i all do a great job in powering a variety of appliances.
For example, Honda EU2000I is ideal to use for TV/DVD player, refrigerator, electric oven, satellite, blender, coffee pot, and so on.
On top of these appliances above, Honda eu2200i is also praised for its more extensive usage, even in heavy-duty devices, including an electric saw. Besides, it allows you to run 2 or 3 additional appliances at the same time without overpowering.
Quick Rundown Of Honda EU2000I
No products found.
Above is our quick summary of some features of these two products. Now, let's move on to learn the pros and cons of this Honda EU2000I.

Quick Rundown Of Honda EU2200i
Honda EU2200i 2200-Watt
This popular model can operate a wide variety of appliances, making it perfect for portable use at home, camping, on the job site, or much more. Reliable Power is now at your fingertips with Honda's Inverted Generators.
So quiet, your neighbors will thank you. The EU2200i operates at 48 to 57 dBA, which is less noise than a normal conversation. This makes it ideal for camping, supplemental RV power and any other activity that requires quiet operation.
Add a second EU2200i for additional power. Two identical models can be paralleled with an optional cable or cord for up to 4400 watts of power, or time-consuming applications.
Thanks to our exclusive Eco-Throttle System, the EU2200i offers great fuel efficiency. Runs 4.0 to 9.6 hours on a single tank, depending on the load. This makes it the ideal choice for overnight power, or long-time applications.
Honda's inverter technology means stable, clean power in a smaller, lighter package. The precision of Honda's inverter technology ensures our inverter generators produce power that is as reliable as the power you get from your outlets at home.
Honda eu2200i is considered the advanced version of the Honda EU2000I. Let's go into details of some plus and minus points of this item to see how fantastic this item is.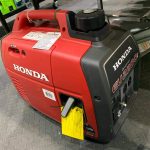 Conclusion
After consulting this article, I am pretty sure that you can determine who is the champion in the battle between Honda EU2000I vs EU2200I, right?
In fact, Honda has made the advanced EU2200I version to replace the old EU2000I. Hence, the prominent features of Honda eu2200i will be worth every cent of your wallet as a result. However, we still hope that our comparison will help you have a better understanding of these products and arrive at a smart buying decision.