If you are finding an oscillating tool that fits your need of remodelling your materials conveniently, then Dewalt will be your favorite go-to brand.
But with a variety of models, it isn't easy to find such pleasant oscillating equipment in the market.
We are here to introduce you to the review of our three favorable items: Dewalt dcs355b vs dcs355c1 vs dcs355d1. Let's see which type of tool best suits your workspace and job requirements!
DEWALT DCS355B vs DCS355C1 vs DCS355D1 Review.
1. Common features
An outstanding design of these three multi-tools is their brushless 20v motor, delivering 57% more run time over brushed. Also, the feature of zero-friction and no voltage drop makes these devices consume less energy.
Besides, the QUICK CHANGE accessory system allows you to use the other alternative blades in the market. The instrument is also compatible with a variety of attachments for dealing with diverse materials or cuts and simple interchangeability without any tools and hardware.
Also, the DUAL-GRIP variable speed trigger permits you to form speed triggers with delicate performing, keep up the pressure, and control the oscillating speed.
What's more? Dewalt oscillating multi toolkit has LED light to enhance your visibility, ideal for working in dark spots or low-light conditions such as inside cabinets or under counters.
Now, let's dig in the outstanding features to differentiate our three multi-tools today.
2. DEWALT DCS355B Oscillating Tool Review.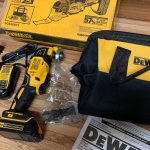 Dewalt DCS355B is the most basic and light-weight version among the three models.
DCS355B is a bare tool, so the kit only includes one wood with nails blade and one fast-cut wood blade, suitable for carrying out tasks such as cutting, scraping, sanding, and more.
The tool is able to reach a speed of 20,000 OPM and an oscillating angle of 1.6°. Its shape and oscillating angle, therefore, help to minimize the vibration and keep the machine in control for tasks requiring precision.
However, the kit for this unit isn't enough for professional users due to a limitation of accessories, and there is no battery and charger included. So, you may need to buy them separately if needed.
DEWALT DCS355B Oscillating Tool Review
DEWALT brushless motor of DEWALT 20V tools delivers up to 57% more run time over brushed
Quick-Change accessory system of DEWALT oscillating tool allows blades and attachments to be changed quickly without wrenches
Dual-Grip variable speed trigger of DEWALT cordless tools gives users ultimate speed and application control
Bright LED Light illuminates dark work surfaces for accurate cutting
Universal accessory adapter for use with most oscillating tool accessory brands
Pros:
Electric-saving
Easy swap of blades
Market-available accessories for replacement
Built-in LED for low-light conditions
Brushless motor for a clean and durable tool
Cons:
Battery drains quickly
Relatively loud when operating

3. DEWALT DCS355C1 Oscillating Tool Kit Review.
The design of DCS355C1 is hassle-free to use and operate, and with the compact frame, it can be utilized on almost any type of work where exact cuts are required.
The tool shows no difference in functionality with DCS355C1, but its kit includes two shorter blades for working with tricky places. For example, shallows cuts can be executed on walls where electrical wiring hides, without worrying about electrical dangers.
No products found.
Pros:
Blades can be modified at varied angles
Effortless blades changing
High compatibility of accessories
Cons:
Uncompleted kit for professional users

4. DEWALT DCS355D1 Oscillating Tool Kit Review.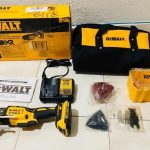 Dewalt DCS355D1 is truly a robust tool for professional users.
Since DCS355D1 is among versions of DEWALT 20V MAX XR Oscillating Tool Kit, it shares the common function and design of dcs355b1 and dcs355c1.
However, Dcs355d1 has the most complete tool kit with 25 sheets of sandpaper in a couple of grits between 80 and 300. With the variety of sandpaper, you can use them for various situations, such as cutting, sanding the weirdest crevasse, removing grout, etc.
Moreover, the battery is rechargeable and lasts impressively long, thus you can perform your tasks longer.
No products found.
Pros:
Equipped with numerous useful accessories
Long-lasting battery
Relatively quiet when operating
Cons:
The blades are incompatible with many saws

Which One Is The Best?
For users who do not need to carry out complicated jobs, and prefer cheaper tools, then Dewalt dcs355b with basic blades provided may suit their work requirements.
However, for those who require more blades to work on trickier jobs, Dewalt dcs355c1 will be their cup of tea since the device offers various options for blades.
On our sides, Dewalt dcs355d1 is the best bargain for those who want to perform multiple tasks, as it is powerful, rugged and extremely versatile with a variety of multi-tool and accessories, providing you with the comfort for cutting, sanding, and using other brands' attachments.
Furthermore, this device is very easy to use due to its compact size, lightweight, precision with impressive cutting power, and variable speed control. Also, the powerful battery is ideal for the device to undertake multiple jobs as it lasts a good long time.
Image
Rank #2
Rank #2
Image
Final Verdict
We hope that through our review of Dewalt dcs355b vs dcs355c1 vs dcs355d1, you can choose your own oscillating tools for working with different materials with the most convenience and flexibility.
We strongly recommend you go for Dewalt dcs355d1 as this device is versatile and powerful to undertake a variety of tasks in a long time.
Having said that, you should consider your budget as well as your working purposes before making a purchase.